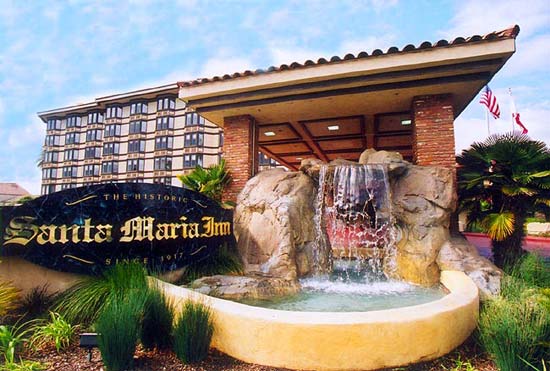 The symposium will be held at the beautiful, Historic (and Haunted) Santa Maria Inn: For reservations and discounted rates, call the hotel directly at (800) 462-4276, and mention the " Central Coast Science-UFO Symposium."
Room Rates: Original Inn: $129 Per Night
(Discounted) Tower Rooms: $149 Per Night
Suites: Call the hotel for prices
Reserve Your Room Today!
800-462-4276
CALL THE HOTEL DIRECTLY, AND LET THEM KNOW IT'S FOR THE CENTRAL COAST SCIENCE-UFO SYMPOSIUM. TO RECEIVE THE DISCOUNTED PRICE, AND TO UTILIZE OUR BLOCK OF ROOMS.
Learn More about the hotel:
http://www.santamariainn.com/index.html


Make this the headquarters for your Central Coast vacation, and visit the following attractions:
A Central Coast landmark since 1917, The Historic Santa Maria Inn blends the style of an old English country inn, the elegance of a bygone era and the gracious hospitality of the Santa Maria Valley . Located in the spectacular Central Coast Wine Country, The Inn is an oasis of charm and luxury, offering a unique hospitality experience and the sophisticated amenities travelers expect.
Discover Tranquility . . . Unwind and rejuvenate in our sparkling pool, heated spa, and fitness center, or relax with an invigorating massage. Sit in the Historical Coach Room where Hollywood legends Rudolph Valentino, Clark Gable, John Wayne, Doris Day, Bob Hope, Marilyn Monroe, Jimmy Stewart, Cary Grant, Jack Benny, Jean Harlow, and many others lounged on their journey to Hearst Castle , or San Francisco .
Hearst Castle - The enchanting hilltop retreat of William Randolf Hearst is one of California 's top tourist attractions. Don't miss the large format films, and museum. Hearst Castle is located off Highway 1 in San Simeon, 70 minutes North of Santa Maria .(800) 444-4445. http://www.hearstcastle.org/
Pismo Beach – Everything one could desire in a California beach town. See the "Dinosaur Caves" at Shell beach for breathtaking ocean and cliff views, and fine dining, which is only 20 minutes North of Santa Maria, off the 101 Freeway. Don't miss Oso Flaco Lake , only 6 miles South of Pismo Beach, off the Pacific Coast Highway .
San Luis Obispo – See the world famous Madonna Inn , where each hotel room is unique, such as the "Caveman" room, made of stone, with a stone waterfall. Also, visit the Apple Farm, and Mission San Luis Obispo de Tolsa, one of California 's best preserved Spanish missions.
Solvang Danish Village - Visiting Solvang you enter the Danish Capital of America, only 35 minutes from Santa Maria . Quaint Old World architectural styles blend with flower-lined streets to create a walkable village. See the spectacular Nojoqui Falls , only 5 miles from Solvang, on Alisal Road . http://www.solvangusa.com/
Chumash Casino, Santa Ynez Valley - Chumash Casino offers Las Vegas style thrills, including a card room, video game lounge or high stakes bingo tables. Its located 35 miles south on Highway 101 to Highway 246 east, Buellton. (800) 728-9997. http://chumashcasino.com/
Big Sur (Highway 1) – Only 1 hour, 20 minutes North of Santa Maria . One of the most scenic drives in the world. Enjoy campgrounds, hiking trails, 4 waterfalls over 100 ft. high, the redwood forests, and the world famous McWay Falls .